We have all heard that the wedding bands should cost X% of monthly income; the implicit message is "if you don't spend enough, you don't really love him/her enough. HOGWASH! The true value of any piece of jewelry is the sentiment–what it means to both the recipient and giver. And a better way to add value is through an engraving. Personally engraved wedding bands carry an everlasting message that outlasts money.
Of course you can have the inside of a gold or platimum ring engraved, and many do. But there are lower cost options as well. Take mens wedding bands, for example. Tungsten, titanium, sterling silver, and the relatively new cobalt chrome (aka white tungsten) are all cheaper than traditional gold. In fact, white tungsten is much more scratch resistant than regular tungsten and has an appearance similar to platinum.
For most, better prices on engraved wedding bands can be found online than locally. Here a couple of shopping ideas from MyOnlineWeddingHelp.com merchants:

The previously-mentioned cobalt chrome–along with other durable metals, like the tungsten ring at left–is available at Limoges Jewelry through their engravable line of mens wedding bands, Everscribe. The bands include free engraving, inside and out (if you want it). Many are on special right now for as low as $30. Plus, you can get 20% off through December 31st by clicking this link and using the code EVER2011 at checkout.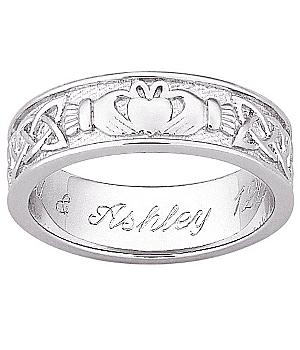 Personalized Creations stocks many types of engraved or otherwise customized wedding gifts, including engraved rings. Browse their personalized wedding bands here Through the end of July they are taking an additional 25% off orders over $59. Plus free shipping. See all Personal Creations wedding gifts here.