Making your wedding centerpieces with real, live flowers can sound scary. But it doesn't need to be! Here are ideas for different types of DIY wedding centerpieces with flowers. Also, where to buy the florals, greenery, and supplies without leaving home.
Note: Some links in this post go to the shop section or directly to another website. My Online Wedding Help will receive a small commission from the merchant if you click and buy a product.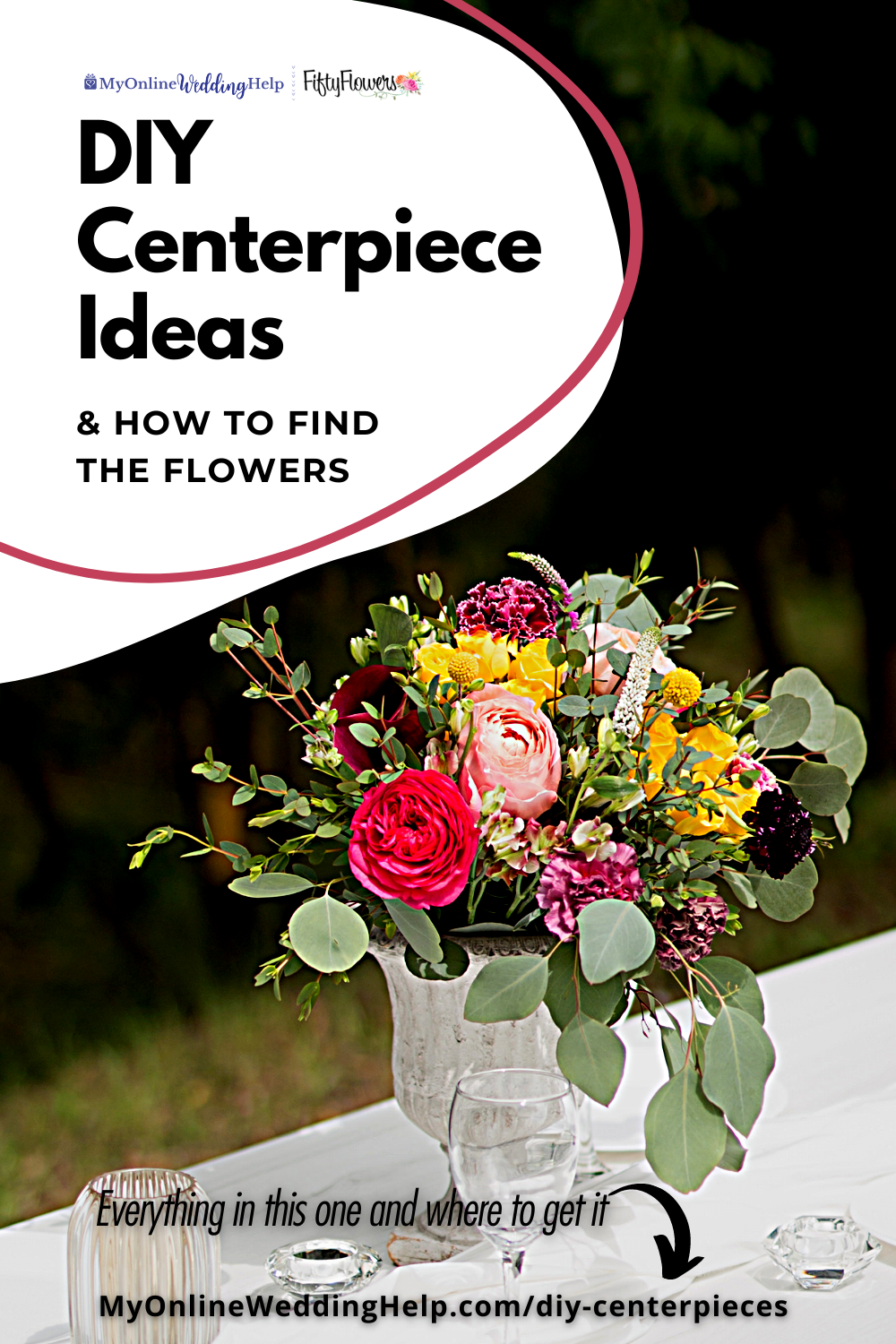 If you do not yet precisely know what you want, a bit of brainstorming and planning is in order.
We all know what a floral centerpiece is, but we all envision them differently. So, consider these aspects for yours:
What kinds and amount of foliage, fillers, and blooms do you like? Is there a lot of green or very little? Are the flowers bright or subdued? Do you love many alternative fillers, like baby's breathe and dried wheat, or none at all?
Where will the centerpiece be displayed? Will it be setting on a round guest table or a long one? Or in a square space, like an entrance table?
Approximate what height or profile do you prefer? You probably don't know the exact dimensions, but you do know the shape you like. Very tall or shorter so you can see over it when sitting? Or maybe even a flat runner down the center of the table?
What shape should the arrangement be? Round and domed like a traditional centerpiece? Or long a slender for a rectangular tablescape? You may prefer more rustic, with less structure and more randomly placed stems.
What vase or container will your centerpiece have? Many are in glass or ceramic vases, and you may choose that. But there are other containers as well, like rustic wooden boxes or mason jars. You can even lay the stems flat and secure them with floral tape or foam!
What ELSE will make an appearance in your centerpiece? Your answer may be "nothing else." Or you may love additions like lanterns, candles, or rustic bark.
Will all or part of the centerpieces be doing "double duty?" Such as mini arrangements or plants as favors. Or perhaps the flowers will act as a holder for the table number.
While an arrangement overflowing with blooms is lovely, that isn't the only direction you can go. Beautiful greenery can play the most prominent role in your centerpiece arrangements, as it does in the Bohemian Green collection.
Eucalyptus is the modern go-to for intriguing shapes, textures, and shades of green. If you look closely, at least one variety appears in many weddings! This versatile plant works as a garland base for long, tablescape centerpieces as nicely as it plays traditional roles in vases centerpieces.
The picture above actually has three varieties: baby eucalyptus, gunnii eucalyptus, and silver dollar eucalyptus. You can buy it as a DIY centerpiece package or a pre-arranged centerpiece. It is part of the Bohemian Green Collection at Fifty Flowers. Buy it alone or with other products in the collection.
Flowers and fillers make up much of "the look" in your centerpieces. But the vases make a difference as well! Here are some ideas about integrating different looks depending on the vase or other containers.
One unique twist on the vase is to use a box instead of a glass or ceramic vase.
They form a solid base for the centerpiece flowers. And wooden ones like this can add the perfect hint of rustic styling to a guest table. Read ideas for putting together this look and four other rustic centerpieces in How to Sort of DIY Five Favorite Rustic Wedding Centerpieces
Perhaps the simplest DIY wedding centerpieces with flowers approach is the bud vase tablescape. You can make an elegant, yet simple statement by placing three stems of blooms and greenery into each bud vase, then spacing them out on the table. They look fantastic when placed with other decorations as well.
Here is where you can find the stems to create a tablescape similar to the one above. Click or tap each flower name to go to the correct page at Fifty Flowers:
Pink Diamonds Alstroemeria Flowers – This is a type of lily with a deep, unique pink color.
Dark Blue Designer Delphinium Flower – These tall-standing gems feature stunning blooms that run the stem's length.
Limonium Purple Flower – This is a filler flower. The tiny lavender blooms are an ideal balance to the brighter delphinium.
New Love Baby's Breath Flower – Baby's breath is the ultimate go-to for a spray of subtle beauty or volume. This variety has slightly larger blooms than some, making it ideal next to bold colors.
Pink Dianthus Flower – These varied pink flowers are on the small side, 10-15 per stem. The size helps balance out the larger varieties in your centerpiece.
Another popular vase alternative is a mason jar. Get even more inspiration in the centerpieces with flowers section of my Mason Jar Centerpiece Ideas article.
For many, lanterns provide the ideal balance of tradition, simplicity, and flexibility. You can use them in a wide range of weddings, from the most informal to upscale elegant. And can easily be incorporated into most themes.
Here are four different options and where you can buy them.
Top: Mini centerpiece lanterns. These are super adorable as guest favors. And add a nice touch surrounding any centerpiece. Julie sells them in sets of 12. Learn more or buy >>
Center: Carol's white, distressed-finish lanterns are SOOO good for any rustic or boho wedding. She displayed a couple of winter theme options in the photo. They would look equally beautiful, surrounded by or overflowing with live flowers. Learn more or buy >>
Bottom Left: This is one of my favorites because of the variety of finishes for the reclaimed wood. And Sarah has sized it to hold a pillar candle as well as flowers if you like. Learn more or buy >>
Bottom Right: Monogrammed lanterns are fast becoming a modern classic. Debbie has several styles available from which you can choose. These are perfect as décor in your home as well! Learn more or buy >>
While not technically "vases," candleholders often serve a similar purpose: To provide a contrast to blooms and foliage. Here are some different ideas for doing just that.
Wooden candleholders add intriguing texture to any centerpiece. Here are some options for your tables.
Top: Custom Rustic Studios makes these white birch candle holders in sizes ranging from 2" – 8" high and 2″ – 4″ across. When you order three or more, they hand-select them as a set to look great together. Learn more or buy >>
Center: The Flower Patch creates this personalized version as a unity candle set, but they would go equally well in your centerpieces! Learn more or buy >>
Bottom: The wood doesn't have to be birch or even a full-size candleholder! These adorable wooden tea light candle favors from Metin are ideal for double-duty decorations that go home as guest favors! Learn more or buy >>
Whether you buy pre-arranged centerpiece flowers or purchase separately and arrange them yourself, a certain amount of before-wedding preparation is needed.
Have you noticed how your local grocery store spritzes greens occasionally? It's because moisture is necessary to keep foliage and blooms fresh and perky looking.
Probably your shipment will arrive a bit wilted. That is perfectly normal. Follow these steps to have your florals back to their new selves:
Separate the stems carefully if needed. Then cut a bit off the ends at an angle. A fresh cut for with the biggest will allow the water to travel up to the blooms.
Place them in buckets or bowls of water.
Give them a good spritz. Repeat as needed to keep the flowers happy.
You should soon see a difference in their appearance!
There are a few simple techniques for creating beautiful arrangements. How you insert the stems, the variety of flowers and foliage, and types of fillers make all the difference. Take a look at the centerpieces section in my DIY Wedding Flowers article for details.
Most of us have had the experience of going to a potluck and ending up with our carefully prepared dish slopped all over the car! Tipping is also a concern with your DIY flower centerpieces.
You want to transport your centerpieces in a way that's both safe and allows for assembly before you take them to the venue. The key is creating a secure base for the vases.
An easy technique is to make a sort of "pop up dispenser" to set each in. The idea is similar to the cuts in lids for wipes. An X-cut makes it easy to push in or out, but impossible move sideways.
The steps are simple:
First, turn over the box your vases or flowers were shipped in so that the bottom is facing you.
Next, decide how many centerpieces can fit across the length of the box.
Finally, using a razor knife, cut slits in the box bottom. Make two slits in the form of an X. For a snug fit, each slit should be about the diameter of the vase.
After you have finished arranging the flowers, set each centerpiece into one of the X-slits. Try to place boxes on a flat surface when loading them into a vehicle. The back of SUVs and vans work well for this.