Hi all. As you know, the MyOnlineWeddingHelp.com focus is giving you the right information to create dream weddings on DIY budgets by going with the online resources that give you the best value. When it comes to products (decorations, attire, accessories, etc.) this usually means a mix of do-it-yourself projects; buying designer and/or full price; using coupons; and buying at discount or used.
In that spirit, I'm thinking you may like to see specific examples of these different approaches. I am beginning with a bouquet example; if you like this one, I will do more in the future. Let's take a look at Jessica's bouquet from her real wedding here. (Photography by Judy + Gavin Wedding Photography). I do realize you will also be purchasing flowers for the rest of the wedding party and decorations…the relative costs below should extend to those purchases as well. For more savings, look for wedding collections.
Jessica's Bouquet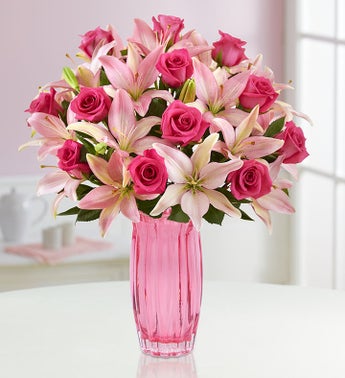 (1) Buy online at retail, $60 ($50 with coupon)
(3) Discounter, $20 ($18 with coupon)
(4) Auction, around $10-$30
As you can see, the bouquet contains a combination of rose buds and tiger lillies. What if you wanted something similar? You could, of course, use a local florist and probably will want to get a quote. If it is beyond your budget or your simply would like to go another route, there are online options as well. In this case–as with most product-related purchases–you can make use of a combination of five specific approaches. (1) Buy at retail price online, (2) Use coupon(s) (3) buy at a discounter online, (4) buy through auctions, or (5) make it yourself. By looking at your different options–which will include both silk and fresh flowers in different size bouquets–you will be better able to choose something that will both fit your budget and fulfill your dreams. You will see in the examples below your cost could range from $15 to $60, depending on which way you go. Let's explore all five approaches in detail ("alignment of interest" note: the products mentioned and shown are all from MyOnlineWeddingHelp.com partners)…
(1) Buying at Retail Online. $59.99
There are florist websites that do wedding flowers. You choose a package online, order, and fresh flowers will be delivered to your door via courier or a local florist. 1-800-Flowers is one such seller. Order from the Wedded Bliss Collection and one of their premier florists will make the bouquets and deliver to you. As far as individual bouquets, they sell the one at left for $59.99.
(2) Use a Coupon. $49.99
Even when an item is not on sale, you may still be able to find a coupon or other discount. That is the case here. Looking at the 1-800-Flowers deals page, I see there is a current coupon for $10 off a $59.99 purchase and one for 15% off. Excellent! Using the $10 off coupon code would bring this particular bouquet down to $49.99. The coupon approach can work with discounters and already-on-sale items as well. Light in the Box (the discounter in #3 below), for example, currently has a coupon code good for $10 off $100 wedding items on it's deal page.
(3) Discounter. $19.99 ($17.99 with coupon)
When you shop online the whole world is, quite literally, at your fingertips. Which means you can find discounters and wholesalers–stores that sell well below retail. As it turns out, the above-mentioned Light in the Box has such pricing and they carry silk floral arrangements. The one at left is priced at $19.99 as of this writing. By adding on other wedding items for $100 total, you can use the $10 off (equivalent to $2 off bouquet), bringing the bouquet down to $17.99.
(4) Auctions. Around $10-$30
eBay is another consideration. The selection is large (
as of this writing) and varied, as are the prices. There are some sellers who offer collections for the full wedding party (17-ish pieces), in the $80-$300 price range.
(5) Do-It-Yourself. Around $30+
It is natural to think doing it yourself is always cheaper. Not true. This happens to be an example where DIY costs more than going through a discounter. They have the benefit of being able to buy at quantity prices rather than the small numbers of supplies you would buy.
The main advantage of making your own, however, is you get exactly what you want–your dream color, flower mix, and size. For a rose and lily bouquet similar in size to the discounter's [(3)], you will need:
Unless you have had lessons, you will also need some kind of tutorial on how to arrange the flowers. Here is one I found on YouTube that will be helpful if you decide to make your own:
So there you have it–five different ideas for how you may go about buying flowers for your wedding. Which approach will you use?